Hva er åpenhetsloven?
Formålet med den nye åpenhetsloven er at norske selskaper skal få bedre oversikt over risikoen for brudd på menneskerettigheter og arbeidsforhold ved produksjon av varer og tjenester. Allmennheten gis tilgang til informasjon om hvordan virksomheter håndterer negative konsekvenser for grunnleggende menneskerettigheter og anstendige arbeidsforhold. Forbrukertilsynet har ansvar for å føre tilsyn med loven.
Hva betyr åpenhetsloven for oss?
Ahlsell jobber allerede med ansvarlig innkjøp som en del av vår bærekraftstrategi. Ansvarlig innkjøp handler først og fremst om å våge å stille krav, og følge dem opp. Dette gjør vi først og fremst gjennom våre etiske retningslinjer Code of Conduct, som er en del av våre avtaler. Vi gjennomfører revisjoner for å sjekke at Code of Conduct etterleves hos våre leverandører.
Ahlsell Group rapporterer til FNs Global Compact (se nederst på siden du kommer til i lenken for mer informasjon), og vi kan også vise til at vårt bærekraftsarbeid er tildelt gull av Ecovadis, les mer om dette her
En del av strategien vår er at vi alltid kan og skal bli bedre. For å sikre samsvar med åpenhetsloven vil vi ta i bruk OECDs veileder for aktsomhetsvurderinger, og
som medlem av Etisk handel Norge vil vi få veiledning om hvordan vi kan styrke arbeidet på dette området. Les mer om samarbeidet her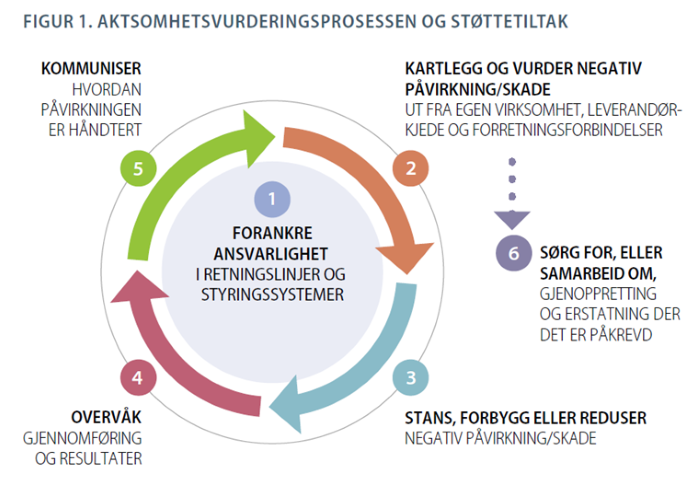 Diagram som forklarer metodikken for aktsomhetsvurderinger som brukes i åpenhetsloven, basert på internasjonale standarder fra OECD og FN.
Informasjonsplikt
I henhold til loven vil vi innen 30. juni 2023 offentligjøre en årlig redegjørelse for vårt arbeid med aktsomhetsvurderinger på vår hjemmeside.
Ved skriftlig forespørsel fra 1. juli 2022 kan alle be om informasjon om hvordan vi håndterer de faktiske og potensielle negative konsekvensene vi kartlegger og vurderer gjennom risiko- og aktsomhetsvurderingene.
Vi kan meddele at vi tar åpenhetsloven på største alvor og har forankret ansvaret i ledelsen, samt er i prosess med å utarbeide nødvendige retningslinjer. Vi ber om noe tid før vi kan legge frem resultater fra aktsomhetsvurderingene.
Du kan kontakte oss ved å sende e-post til apenhetsloven@ahlsell.no
Vi vil som hovedregel besvare forespørselen din innen tre uker fra mottak.