For å nå våre bærekraftsmål, og for å kunne hjelpe våre kunder med å nå sine, må vi se på leverandørkjeden vår. Ved å være tydelige på sosiale og miljømessige krav på innkjøpsstadiet, sørger vi for at bærekraftsspørsmål står på dagsorden helt fra starten av.

Langsiktig mål: Null høy risiko i 2025
Satsingsområdet ansvarlig innkjøp handler først og fremst om å våge å stille krav, og følge dem opp. Dette gjør vi først og fremst gjennom våre etiske retningslinjer Code of Conduct, som er nå en del av alle nye avtaler. Vi kontakter også leverandører som har signert avtaler med oss før The Code var på plass, og presser på for at de også skal registrere seg for å følge opp retningslinjene og reglene. For øyeblikket dekkes 82% av vår kjøpsverdi av leverandører som har signert våre etiske retningslinjer. Vi jobber også aktivt med oppfølgingsbesøk og revisjon for å sjekke at reglene i Code of Conduct følges.
Ahlsell Norge er medlem av Etisk handel Norge (klikk på bildet):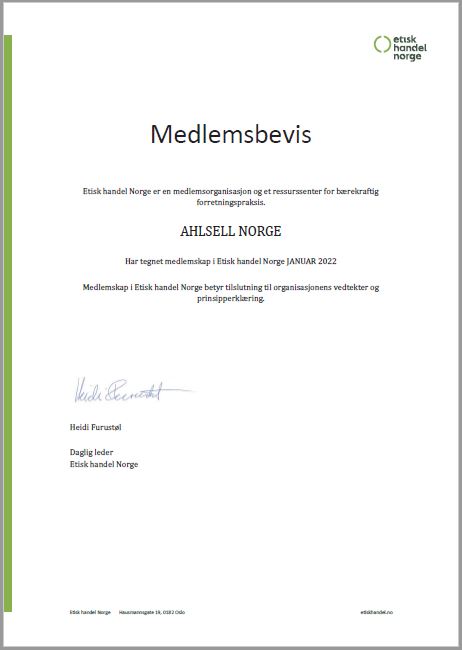 Gjeldende tall
Oppdatert: Q4 2020 (målt bare på gruppenivå)
Andel av kjøpt verdi fra leverandører som har lovet å overholde forpliktelsene i Ahlsells etiskeretningslinjer: 82%
Andel av innkjøpt verdi der leverandørens bærekraftsarbeid er fulgt opp og kontrollert av Ahlsell: 50 %